Empowering the mind, body, and spirit to enhance your life.
Add Go Do Be Wellness or Massage Services to your Event, Stay, or Daily Life. Where Adventure, Health, and an Active Lifestyle meet!
• Integrates an Active Lifestyle with proper muscle care*
• Helps alleviate Pain Decreases Stress
• Teaches proper Stretching Techniques for specific needs**
• Quicker recovery from injury Builds Strength
We offer In Spa or Mobile Table/Chair Massage Services to fit the needs of every client.
MASSAGE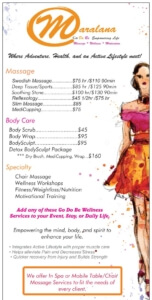 Relaxing Swedish Massage: 60/90/ minutes…………….….$75/$110

This classic Swedish massage uses long, flowing strokes to smooth muscle tension and improve circulation. This massage will ease you into relaxation and tranquility.
Deep Tissue/Sports Massage: 60/90 minutes……………..$85/$125
This deep tissue massage is for tense and chronically tight muscles. Your Therapist will use a variety of muscle release techniques to relieve soreness in the underlying muscle tissue
MediCupping Therapy  45 minutes………..…………….$75
This non invasive technique uses vacuum therapy to  lift tissue, release tight muscles, and bring hydration and blood flow to tissue while also moving deep inflammation to surface for release.  Ask about our treatment series or add-on to any treatment.
Soothing Stone Massage: 50/80 minutes…………………….$100/$130
Treat yourself to this truly exceptional experience. Hot Stones are used to massage the body while nourishing and detoxifying the body and mind.
PACKAGES
Detox Body Wrap and Mini Facial Combo: 75 minutes…………………………..$125
75 minute treatment combining our signature Facial and Body wrap.
Take Me Away: …..……………………………..$170
60 minute massage and Body Wrap
The Works: 2 hours………………………………..$190
Salt body scrub,  body wrap, 60 minute massage
Head to Toe: 2 -2 1/2 Hours….……..…………….…$240
Foot rejuvenation treatment, 60 minute massage, and Full Body Wrap.
SKIN CARE